Suggestions for Maintaining Interest and Control in English Second Language Classrooms
Posted by

Date

September 10, 2014

Comments

0 comment
Stay in Control
Experienced teachers know that control is key to success with  many different types of classes. It seems that each group develops a personality of its own. Some groups have their energy needs under control – they are ready and eager to learn throughout most lessons. This type of group is the dream of all teachers! Although these students make teaching easy there are many other more complex situations that teachers deal with every day. Let's consider several of the more difficult groups and offer some possible solutions. This article is about how teachers can help these students in the classroom. Anything a teacher can do to assist a student with problems outside of the school situation, would vary from culture to culture and will not be addressed in this article.
Some Groups Are Listless and Passive
These students are often in their teens – it seems that they have turned-off on learning or given-up. Perhaps they have attended too many boring lessons, maybe they don't get enough sleep or perhaps the problems of their life at home occupy their thoughts and sap their energy.
Perhaps one of these suggestions will spark a successful approach.
Try starting the class with a song or by playing a popular song using whatever audio equipment you have. Whether your students are living in their first language environment or in an English speaking country they will likely be interested in hearing a song that is popular in the "West".
Brainstorming topics of interest, or having a debate might help some students to get involved, especially if the topic is seen as "cool" by others of the same age who are members of the "in-group". If their English is very limited then suggest some words and write them on the board. If they are more advanced then try some different material.
Competitive games help to get them involved. Of course it isn't possible to play Word Bingo throughout every class, but if such a game is part of the class time, then the students' attention for other activities may slowly improve.
Some Groups are Bright and Hyperactive
These students need an outlet for all their ideas and their energy. They are talking and laughing as they come into class. They don't necessarily have a problem; they are just enthusiastic about life and want to do everything all at once. It's sometimes difficult for them to concentrate on one thing at a time. Once again let's focus on what we can do to settle them down rather than the reason for all the noise. Tips for keeping English Second Language Teenagers interested.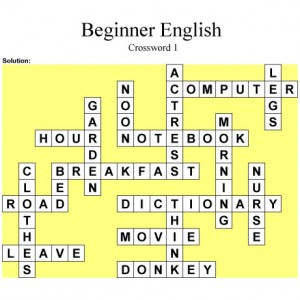 – Establishing a routine for what they do when they enter the class may be helpful. It could involve doing something quiet such as a Crossword or a Word Find puzzle. For some groups it's best to require a quiet atmosphere but for others that may be too difficult. Perhaps allow them to talk quietly while they work together to solve a puzzle.
– These students are often very creative. You might want to have them create puzzles. These could be made available for their classmates to solve.
– These active groups may have one type of activity that they prefer. They'll ask to do it as soon as they enter to room. Explain that there are other things that they need to do first and then they'll all be able to participate in the requested activity.
Try some of these suggestions – choose ones that are right for you and will integrate with your teaching style. A variety of teaching approaches are needed to maintain control and meet the needs of the multiple learning patterns of students