ESL Students and Their Accents
Posted by

Date

May 19, 2011

Comments

0 comment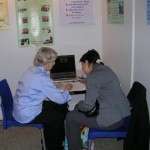 It is important to remember that everyone has an accent. If we travel from the West Coast of Canada to Toronto, we immediately notice the difference in the people's accents. If we travel on to Newfoundland, there are some remote communities where we wouldn't be able to understand a word spoken. It is the same in the United States. The differences in accents between people living in Pennsylvania, Georgia, New York and California are quite startling.
So, how important are accents?
When we consider the millions of people throughout the world who live in a non-English speaking environment, but who have learned English while speaking their first language most of the time, there are bound to be a wide variety of accents. This is not a problem. A few years ago the United Nations passed a resolution stating that the English language is universal. All accents are acceptable if the speaker can be understood. Listening to native English speakers you'll hear many different accents. The television is a good example.
We always recommend that in choosing an ESL Curriculum, teachers choose a conversational approach. This will help to minimize accents.
A common problem
People in many countries have learned to read and write English but don't know how to speak. An auditory program could be of great help to them. Some years ago I learned to read French but no one ever spoke. I never heard it. I needed a program or a French class where I could hear and repeat sentences many times. Later, working with sentences rather than single words helped me to learn the syntax or word order plus which syllables to emphasize or stress as I spoke.


Programs that provide listening and speaking, or listening, speaking and reading
There are on-line programs that offer listening, speaking and oral English comprehension. The written text is usually available at the click of the mouse. These programs are best suited to older students who have studied English previously. They would provide an excellent review for students who had studied English a few years previously but haven't had an opportunity to hear or speak it since that time.
There are also interactive programs that offer listening, speaking, reading, and writing. They introduce the vocabulary and grammar incrementally and supply tests at regular periods throughout. Students can access this type of program in their own time – they can work alone or with a friend at one computer. This type of study is well suited to students who live at a distance from an English language school or for those whose hours of work vary.
Final thoughts
The important thing for teachers to remember is that if students practice English regularly with a curriculum that utilizes the conversational approach, heavy accents will disappear, and often the students will acquire a delightful way of expressing themselves in English.

Written by: [insert_php] the_author(); [/insert_php], Learning English with Laughter Inc.
Modified: [insert_php] the_modified_date('F jS, Y'); [/insert_php]
Published: [insert_php] the_time('F jS, Y'); [/insert_php]