Module 4 — Advanced ESL Textbooks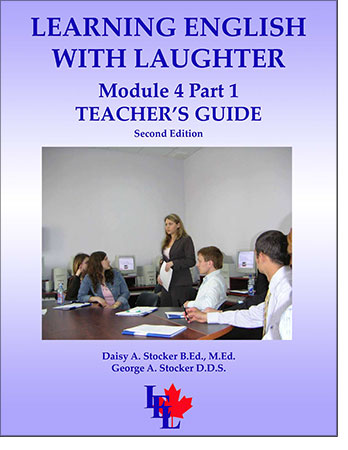 Our ESL Curriculum for advanced students uses a conversational approach to English, stressing communication in a variety of everyday situations. Reading and writing are included in each lesson, with numerous activities for practice, but listening and speaking are given the greatest emphasis. Basic grammar is introduced sequentially, then practiced in a variety of oral activities and written exercises.
Our ESL textbooks are in use all over the world.
Seattle School System
US Bureau of Prisons
West Point College NY
South Korea recently published 13,000 copies of our Children's textbooks.
Parts 1 and Part 2 can be purchased separately or together
Part 1 – Lessons 1 – 20. (Overview below)
Part 2 – Lessons 21 – 40. (Overview)

Part 1 Overview
Updated February 2017 – includes debates and lessons about the Olympics
Licence
— Schools may print as many copies as required. (1 Licence per school, no online applications or distribution) Copyright Details here

Includes:
Student Reader – 67 pages
Student Workbook – 54 pages
Teacher's Guide – 69 pages
20 lessons
5 tests
2 review lessons
Glossary
PDF format
Available as PDF files on CD or Download

Grammar
Verbs followed by infinitives
How much/How many
Conditional Sentences
Verbs following infinitives
Present perfect progressive tense
Prefix re
Past perfect Progressive
Future Perfect Progressive
Passive voice
Word Order

Activities
Oral Questions
Debating
Small groups asking and answering questions then checking the answers provided
Role-plays
Gathering information using a pseudo name
Word Bingo
Two teams asking questions and giving answers
Writing Paragraphs
Crossword Puzzles
Writing Role Play
Puzzles
Solving a money problem

Classroom Hours – 20 lessons. Each lesson provides between one and two hours of classroom time.
Module 4 – Part 1 Table of Contents
Questions? PLEASE contact us!
Module 4 – Part 2
Part 2 – Overview
This Module introduces experience with some of the types of questions asked on the TOEFL, TOEIC, and IELTS examinations. It does not, however, complete a student's preparation for the test.

Includes:
Famous short stories and poems
Articles containing some scientific content
Articles with historic content
A review of grammar
Crossword puzzles

The lessons promote the student's ability to:
Use context clues to understand new vocabulary
Understand inferences
Understand what is implied in a paragraph
Write paragraphs and stories
Write dialogue
Report on group discussions
Purchase All 4 Modules

(about 1400 pages of material)

Includes:

Module 1 Beginners Parts 1 & 2, Guidebook, Reader & Workbook ($100 Value)
Module 2 High BeginnersParts 1 &2, Guidebook, Reader & Workbook($100 Value)
Module 3 IntermediateParts 1 & 2, Guidebook, Reader & Workbook($100 Value)
Module 4 AdvancedParts 1 & 2, Guidebook, Reader & Workbook($100 Value)

Ordering Options


Module 1, 2, 3 & 4 – $350.00


Download Version
Download links sent after purchase.

Buy Now

Module 1, 2, 3 & 4 – $425.00


CD Rom Version
Shipping Details

Order Now

Module 1, 2, 3 & 4 – $425.00 with Customization

Your School name and graphic appear on the covers of all books.
(Download Version Only)

Order Now

A note about our pricing.

We understand economic conditions vary greatly from country to country. If pricing is a issue, please contact us and we are happy to discuss your situation.
ESL EFL Curriculum for Advanced Level Students
By Learning English with Laughter Inc.
Complete ESL EFL Curriculum textbooks for advanced students -Includes Teacher Guide, Student Workbook and Student Reader.
Published by:Learning English with Laughter Inc.
Language English
Publication Date: May 17, 2006
Written by: brian_p6c63673, Learning English with Laughter Inc.
Modified: 2017-08-25
https://efl-esl.com/wp-content/uploads/2014/09/module4.jpg
Paperback or PDF Download:
USD
$
100
Modified: August 25th, 2017
Published: September 30th, 2014