TEST OVERVIEW
The TOEIC, or Test of English for International Communication tests your competency level in English. The test has two sections, Listening and Reading, and Speaking and Writing.   The Listening and Reading section, a 2-hour standardized test with multiple-choice questions.  The  Speaking and Writing section is a one-hour assessment delivered on internet connected computers. The official site is https://www.ets.org/toeic
REGISTRATION
To register, you will need: valid ID with a signature and a photograph.   The same ID must be provided to the test center.
Personal items are not allowed in the testing room. The registration is generally online but may vary depending on your country and institute. Fees also differ by country.
TEST DETAILS
The Listening and Reading has two parts, each with 100 questions. The Speaking and Writing test is conducted separately. You may can take one or both sections, depending on your requirements and the requirements of your school.
The Listening section is 45 minutes.  You will be given a variety of recorded  conversations and short passages, followed by questions.  The questions and conversations are divided as
– Photographs: 10 questions
– Question-Response: 30 questions
– Conversations: 30 questions (10 conversations with 3 questions each)
Talks: 30 questions (10 talks with 3 questions each).
The Reading section is 75 minutes.   You are given a variety of materials to read followed by questions based on the passages. Questions are in the following order
– Incomplete Sentences: 40 questions
– Text Completion: 12 questions
– Single Passages: 28 questions (7-10 reading texts with 2-5 questions each)
– Double Passages: 20 questions (4 pairs of reading texts with 5 questions per pair).
The Speaking section is 20 minutes and has 11 questions. You will be evaluated on pronunciation, intonation and stress, grammar, vocabulary and cohesion, in addition to relevance and completeness. Questions will be some combination of the following:
– Questions 1-2: Reading a text aloud
– Questions 3: Describing a picture
– Questions 4-6: Responding to questions
– Questions 7-9: Responding to question using information provided
– Questions 10: Proposing a solution within 60 seconds after 30 seconds of preparation
– Questions 11: Expressing an opinion within 60 seconds after 15 seconds preparation time.
The Writing section is 60 minutes and has 8 questions. You will be evaluated on vocabulary, grammar, organization and relevance, and how you support your opinion with reasons or examples. Questions are:
Questions 1-5: Describing a picture with two words below it within total 8 minutes. The two words in any form must be used in a sentence to describe the picture.
Questions 6-7: Responding to an email message with some provided directions within 10 minutes.
Questions 8: Writing an essay with minimum 300 words 30 minutes in response to a question that asks to state, explain, and support personal opinion on an issue.
SCORE & RESULT
Scores are determined by the number of correct answers in Listening and Reading on a scale from 5 to 495 points, which is converted to a scaled score from 10 to 990 points. With the individual score, the total scaled score is derived by adding them together. Speaking and Writing tests responses are scored based on specific evaluation criteria, which are converted to a scaled score of 0-200. The report generally takes approximately 14 business days to be received.
TOEIC® Test Strategy
Winning Multiple Choice Strategies for the TOEIC®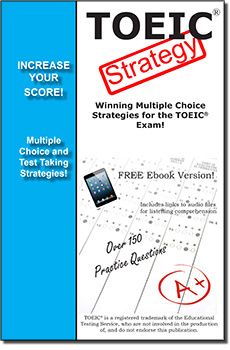 Learn and Practice Proven multiple choice strategies for reading comprehension and listening comprehension! Plus how to take an oral exam, how to take a test and more! Over 100 Practice Questions
PURCHASE NOW
Printable PDF Version of Printed Version. Download after purchase. No shipping!  No Waiting!
Winning Multiple Choice Strategies for the TOEIC®
Learn and Practice Proven multiple choice strategies for reading comprehension and listening comprehension! Plus how to take an oral exam, how to take a test and more! Over 100 Practice Questions
Order Paperback
(Amazon)
Getting Started with the TOEIC®
Test Strategy

Multiple-Choice Step-by-Step
Strategy Practice Questions 17
Answers to Strategy Questions 37

Reading Comprehension Practice Questions
Answer Key 64
Listening Comprehension
Answer Key 87
How to Take an Oral Exam
Preparing for an Oral Exam 91
How to Prepare for a Test

How to Take a Test
Reading the Instructions 99
How to Take a Test - The Basics 100
In the Test Room 105
Avoid Anxiety Before a Test 110
Common Test-Taking Mistakes 111

Conclusion