Suggested Activities and Role-plays for Teaching Verb Tenses
Posted by

Date

May 18, 2011

Comments

0 comment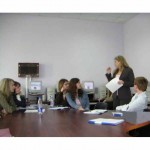 The order in which the verb tenses are introduced can make the structure of the English Language easier for the students to understand. Whereas pre-teen and early teen children learn a language by listening and repeating what they hear, without any need to think about grammar, this facility seems to fade as everyone gets older. The older a student is the more he or she will want to analyze the structure or learn using rules. This article suggests ideas and provides activities for introducing tenses to beginners.
If a program starts by teaching the simple present tense only, and if the students are only given activities or exercises that include the present tense, then it will become clear to them. At the point that they are secure with the present, then the past tense can be introduced . The introduction of each tense should be followed by many oral activities and written exercises.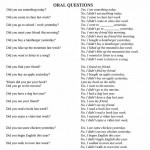 What Kind of Activities Should Follow the Introduction of a New Tense?
ORAL QUESTIONS that the teacher asks the whole class, are the best way to begin. They allow the teacher to see where the students are having difficulties and to provide the help they need. It's usual for many of the students to have the same problem.
SMALL GROUPS allows students to ask each other the questions provided and help one another with the answers. It also gives them a time to practice speaking English.
ROLE-PLAYS help the students to move into real life situations. These may be about making introductions or perhaps ordering in a restaurant. Role-plays can be carefully written using a controlled number of tenses.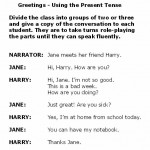 Try the activities below with your Beginners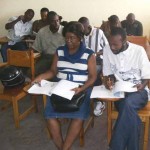 SMALL GROUP ACTIVITY
ROLE-PLAY