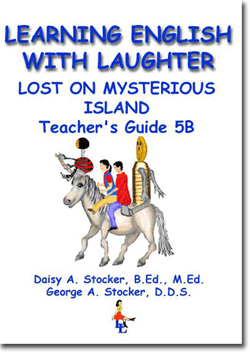 5B - Lost on Mysterious Island
Interest level for students 9 - 12 years of age. It has 14 ESL lessons
Includes 3 Books
Student Book
14 ESL lessons and 72 pages.
Practice Book
35 pages for 14 children's ESL lessons with an interest level for students 7 – 12 years of age.
Teacher's Guide Book
60 pages.  Interest level for students 7 – 12 years of age. 71 pages and a final test.
About our Children's Curriculum
These textbooks were designed in cooperation with a Hong Kong company and have been tested in the classroom.
Our Children's Curriculum now has over 13,000 copies in print!
Download immediately after purchase.
Print as many copies as required.
The  children and their alien friends travel through the solar system to Saturn. On their way they they are chased by the evil Exians. Will they reach Saturn safely?
Order 5B - Lost on Mysterious Island
PURCHASE NOW
Children's Textbook Bundle – Save 20%
All 10 books (1A, 1B, 2A, 2B, 3A, 3B, 4A, 4B, 5A, 5B) – Save 20%!
Order Children's Textbook Bundle $175

After purchase, you will be re-directed to the download page. In addition, an email with download links will be sent the the email you use to purchase. If you do not see this email, check your SPAM folder.
Lesson 15 An Angry Destroyer 71

Lesson 16 Inside the House 76

Lesson 17 A Computer Lunch 81

Lesson 18 Making Plans 86

Lesson 19 Meeting the Weeble 91

Lesson 20 A New Peril 96

Lesson 21 The Fight 101

Lesson 22 After the Fight 106

Lesson 23 Alarming Signals 111

Lesson 24 Another Surprise 116

Lesson 25 The Unexpected Friend 121

Lesson 26 The Source 126

Lesson 27 Trapped 131

Lesson 28 A Happy Reunion 136
Verbs
linking verbs and action verbs –78
present tense using third person singular – 74, 83, 98
present tense – all persons 89, 93, 104, 109, 124,
past tense – 109,
identifying verbs – 108
irregular verbs – 128, 139
adverbs –132, 139

Nouns
112,
Contractions 133
Adjectives 79, 94, 84, 88, 108
Role-plays 76, 77, 81, 86, 87, 91, 92, 96, 97, 106, 107, 110, 112, 116, 117, 121, 122, 126, 127, 131, 136, 137

Sentences
subject – 98, 124,
predicate – 99, 108, 113, 124,
completing sentences - 103
commands - 118,
writing sentences using suggested phrases - 72, 82, 127, 137,
matching sentences to pictures - 73,
Forming questions - 123,

Comparatives
80, 134, 138

Punctuation
capitals, periods, questions, exclamations – 114, 119,

Crossword Puzzles
75, 95, 105, 115, 125, 129, 135,

Word Bingo
85, 90, 100, 120, 130, 140