Complete Workbook for Learning English at Home!
Complete Listening and Speaking English Workbook – includes downloadable audio! If you want to learn and practice your English – this book is for you!
Vocabulary for each Lesson
Everyday Conversations – Listen to full audio then role-play!
14 Lessons
2 Review Chapters
2 Full Audio Tests with Answer Key
Role Play
Telephone Conversations and role play
Question and Answer Dialogues
Access full audio for each lesson and all content with easy scan QR codes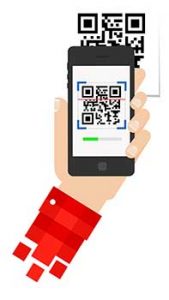 Learn and Practice English at Home!
Sample Practice here
Listening and Speaking English Workbook – PDF Sample
Includes:
Points Covered
Greetings
To Be – Singular and Plural
Possessive Pronouns
Counting 1 – 10
Telephone dialogues, role play and conversations
Everyday conversations, role play and dialogues
Listening and Speaking English Book 1 - Beginners
Role play, everyday conversations, telephone conversation, counting and more! Will full downloadable audio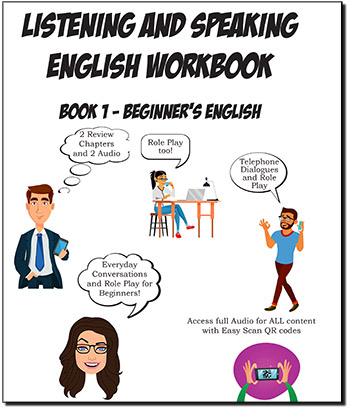 Learn English at Home! Suitable for beginners - with full audio!
Order PDF Download Version
- $19.99 PDF Download Version of Printed Version. Download after purchase. No shipping! No Waiting! Printable PDF version of Paperback - Optimized for any platform - PC, MAC, Smart Phone or Tablet!
Available as:
70
ISBN:
9781772452792
English
Publication Date:Sept. 18, 2018
Page Updated:
2019-06-04
Published by:
Complete Test Preparation Inc.
;
https://efl-esl.com/wp-content/uploads/2018/09/LIstening-Speaking-Cover-1.jpg
Written by
,
Date Published:
2018-09-20
Date Modified:
2019-06-04
Lesson 1 - Daisy And George 8

Lesson 2 - To Be Or Not To Be 11

Lesson 3 - How Are You? 15

Lesson 4 - Peter's Dog 17

Lesson 5 - How many Birds 20

Lesson 6 - Gabrielle And Ben 24

Lesson 7 - Review 28

Test 1 - Lessons 1 To 7 32

Answer Key 34

Lesson 8 - The New Car 35

Lesson 9 - Sarah Phones Carol 38

Lesson 10 - Friendly Teachers 41

Lesson 11 - The New Car 45

Lesson 12 - The New Mototcycle 51

Lesson 13 - At The Restaurant 55

Lesson 14 - Review 58

Test 2 - Lessons 8 To 14 60
Answer Key 65