Get your Students Involved and learning with ESL Adverb Bingo
ESL Bingo games are one of the most fun and best learning games for ESL Teachers.
Once students get going, they won't want to stop!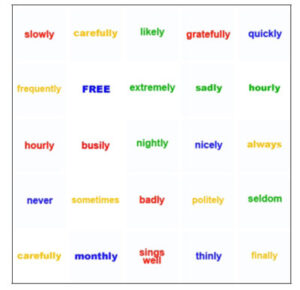 Summary:
20 unique full color printable Bingo cards
Vocabulary exercise using adverbs such as courteously, actively, thankfully etc.
Vocabulary exercise using frequency adverbs such as, often, sometimes, not at all
Involve your students with interactive ESL EFL games
Students give 100% of their attention to playing bingo in English. Always a hit!
S. A.
Benefits
All handouts included. No preparation! Saves you hours and hours.
Use this package over and over. Saves you time and money!
Complete instructions for TEFL Teacher. Everything is explained and ready to go!
Ready to use in the classroom. Walk into the classroom and use it today.
Handy Adobe PDF format.
Involves and engages students learning English
These highly motivating activities promote a relaxed atmosphere where the students become involved in the content and learn to think in English.
English as a second langauge Students become so involved they forget they are learning.
Students retain more of what they learn because they enjoy themselves
Students absorb concepts directly, and remember what they have learned.
Students leave class with positive feelings, and look forward to coming back!
ESL Lesson Bonuses (included at no extra charge)
Extra exercise using EVER
Extra exercise using frequency adverbs
Adverb Crossword Puzzle
Bingo history Lesson
Bingo Idioms and Slang
HERE IS WHAT YOU RECEIVE:
20 Unique full color printable Bingo Cards
3 extra exercises and activities
Crossword puzzle and answer key
Bingo History and Bingo Idioms Lesson